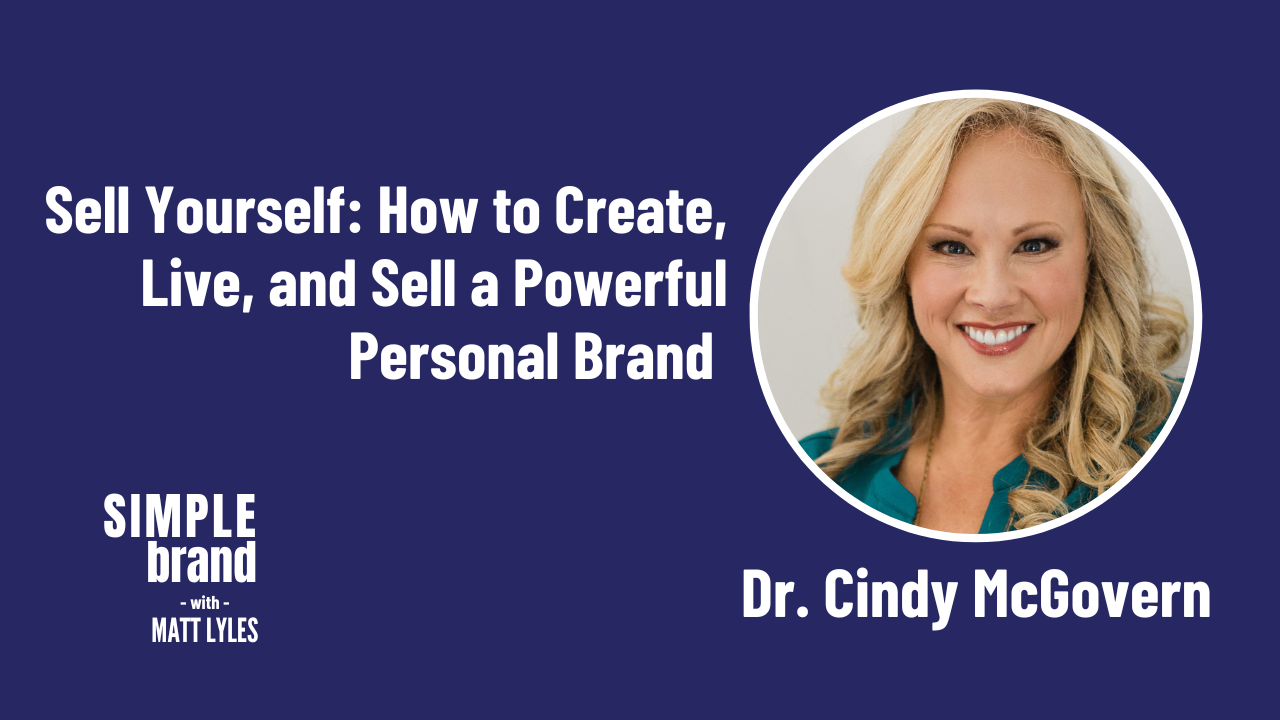 SIMPLE brand #94 - Dr. Cindy McGovern: Sell Yourself - How to Create, Live, and Sell a Powerful Personal Brand
In this week's episode of the SIMPLE brand podcast, I talk with Dr. Cindy McGovern, author of Sell Yourself: How to Create, Live, and Sell a Powerful Personal Brand!
Dr. Cindy is best known as the First Lady of Sales®. She's an internationally renowned keynote speaker and she's the founder of Orange Leaf Consulting which helps thousands of organizations and individuals create dynamic and robust sales processes.
And she's a Wall Street Journal best-selling author of two books including her latest - Sell Yourself: How to Create, Live and Sell a Powerful Personal Brand.
Dr. Cindy and I discuss her lessons from Sell Yourself all around the right ways to create and manage a personal brand.
Some of the topics we discuss include:
How selling is really about helping and how everyone is in sales, no matter their role

Your personal brand is the legacy and impact you leave with others

You have a personal brand, and everyone knows it except for you

How to solicit feedback to understand how others define your personal brand

The steps you need to take to craft the personal brand you want

What to do when the brand others define for you doesn't match what you've defined

Dr. Cindy's three critical components to crafting a personal brand

How to ensure you're consistently living the personal brand you want

How to help your network advocate for and sell your personal brand

How to recover when you've gone "off-brand"
RESOURCES FROM THIS EPISODE:
ENJOY THIS EPISODE HERE
RATE, REVIEW & SUBSCRIBE HERE
"I love the SIMPLE brand With Matt Lyles podcast!" Does that sound like you? If so, please consider rating and reviewing my show! This helps me support more people (just like you!) create simple experiences for their customers and for their team members.
Click here, scroll to the bottom, tap to rate with five stars, and select "Write a Review." Then be sure to let me know what you loved most about the episode!
Also, if you haven't done so already, go ahead and subscribe to the podcast. I'm adding a bunch of bonus episodes to the feed and, if you're not subscribed you'll likely miss out on them.
Are you signed up to get notified on new posts and podcast episodes?
You'll never miss another idea from Matt.
You hate SPAM, right? Us too! We'll never sell your information, for any reason.